Why Choose Dirt Doctors For Commercial Cleaning?
Our mission at Dirt Doctors Cleaning Services is to help our commercial clients have a more productive workplace by delivering on our promise to provide high quality cleaning at affordable prices. Our cleaning services cater to each of our clients unique needs to ensure your workspace is clean without disruption to operations. 
Trust The Dirt Doctors
Our employees are passionate about cleaning, it's a matter of pride. We will not leave your facility unless we are completely satisfied that the job has been done right. That's why you can trust the Dirt Doctors for all your cleaning needs.
Types Of Facilities We Clean
Dirt Doctors cleaning offers janitorial cleaning services for commercial spaces. From office buildings to small offices and churches to event spaces, if you have a facility that needs cleaning The Dirt Doctors have you covered.
What Our Cleaning Company Offers
Dirt Doctors provides commercial, janitorial, and office cleaning services to Western Pennsylvania. You have made an investment in your home or business and we understand that quality cleaning maintains that investment. Our goal is to help you meet that need.
While there is no "one size fits all" cleaning package our services generally are shared across the various types of facilities we clean. We work with our clients to create a cleaning plan that works for their office, business, or facility giving you options about what and where you would like us to clean. Restrooms and kitchens for your property are part of our service list.
From top to bottom, we start with any high dusting and interior window cleaning. We start at the "top" because dust settles, this ensures the systematic removal of any fine particulate finding it's way back to your surfaces or flooring once we leave. We then move to any counter tops, desks, or working services, that you dictate to us directly, dusting or wiping down then disinfecting where necessary.
We are now ready to complete any janitorial and maintenance duties. These include things like collecting and disposing of trash and relining the receptacles, re-filling any paper towel, soap, lotion, sanitizer and the like.
Finally we arrive to cleaning the floors. We offer a wide array of floor cleaning and maintenance services to accommodate all the various flooring finishes found in commercial properties. Carpets are vacuumed and spot treated. For hard flooring surfaces, we either sweep or dust mop and wet mop on a regular basis.  We can also subcontract machine scrubbing, stripping and waxing of floors as needed.
No matter the type of facility you have, if it needs routine cleaning and janitorial services, the Dirt Doctors have you covered.
Standard Cleaning Services
Dusting – tailor made to your specifications.
Vacuuming – spot vacuum nightly. Wall to wall – weekly.
Restroom cleaning – nightly. Wipe mirrors, disinfect sinks and toilets, wet mop with disinfectant solution, re-fill dispensers, spot clean around door handles and light switches.
Kitchen cleaning – nightly. Disinfect and wipe sinks, counters and tables. Weekly – Clean inside microwave. Wipe outside appliances.
Floor cleaning – Sweep and wet mop nightly.
Empty trash – nightly.
Clean entrance glass doors – nightly.
Sweep and mop steps/stairwell – weekly or more if needed.
Clean elevators and shine stainless steel
Re-fill paper and soap dispensers

Additional Services
Carpet cleaning
Floor maintenance – stripping, waxing, scrubbing, burnishing and buffing on all hard surface floors
Window cleaning
High dusting
Dusting baseboards and blinds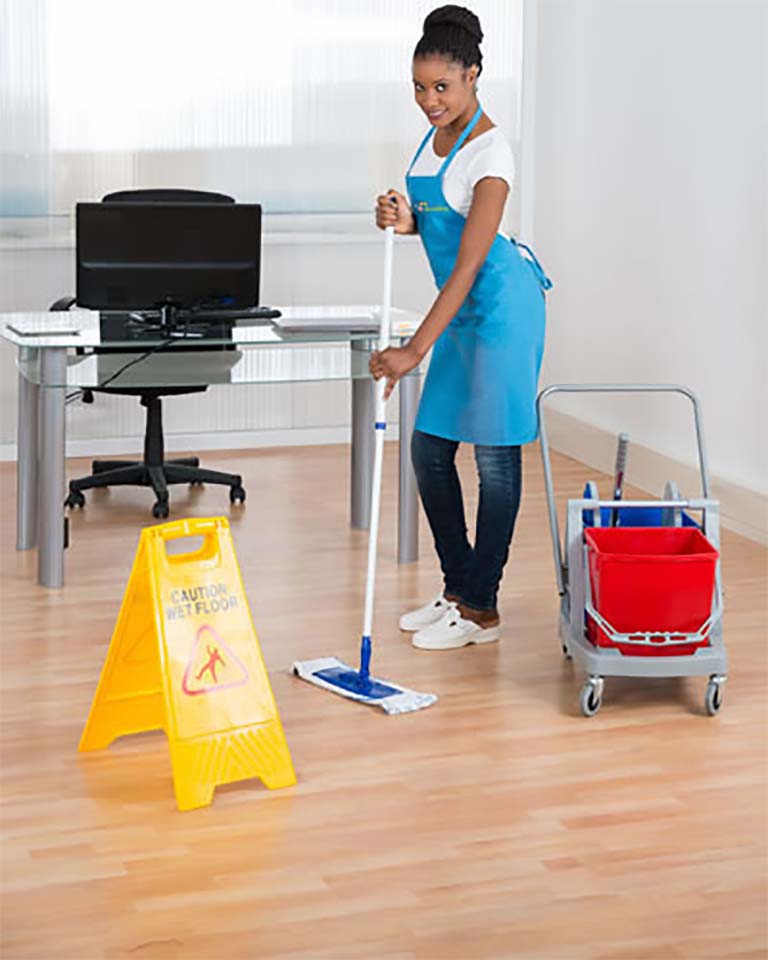 Dirt Doctors' Testimonials